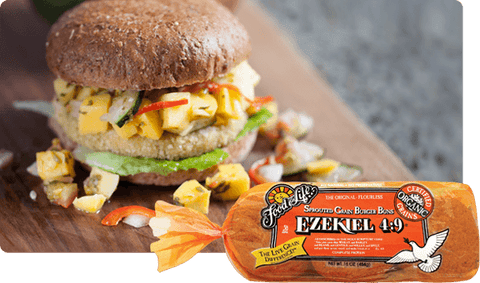 Organic Ezekiel 4.9 Sprouted Whole Grain Burger Buns 454g
Quantity:
NB. This product will be sent frozen, but arrive ambient. Please refrigerate or freeze upon receipt to increase the life expectancy of the product. Refrigerated products will be fresh for 2 weeks once the product has thawed.
---
Food for Life Ezekiel 4:9 Sprouted Wholegrain Burger Buns are made with same combination of sprouted organic whole grains as all of our Ezekiel 4:9 ® products These delicious buns can be used to make individual veggie pizzas, veggie burgers, or as dinner rolls among other ideas. 
Food For Life "Certified organically grown" assures you the grains have been grown and processed without the use of spray fertilizers, chemicals or pesticides and the land (where the grains were grown), has not been sprayed for at least 3 years (including current year's harvest). Certified organically grown grains are 3rd party verified by certifying agencies National Organic Program (NOP).
Ingredients
Organic Sprouted Wheat, Organic Sprouted Barley, Organic Sprouted Millet, Organic Malted Barley, Organic Sprouted Lentils, Organic Sprouted Soybeans, Organic Sprouted Spelt, Filtered Water, Fresh Yeast, Organic Wheat Gluten, Sea Salt.

---
---
© 2023 Food For Life
american express

apple pay

diners club

discover

google pay

maestro

master

paypal

shopify pay

unionpay

visa