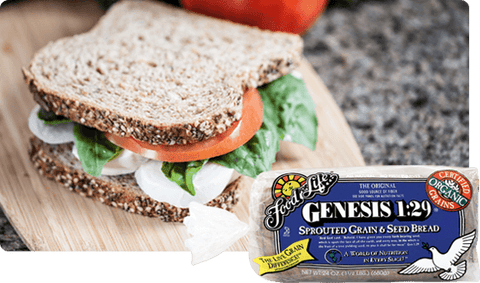 Organic Genesis 1.29 Sprouted Wholegrain Bread 680g
Quantity:
NB. This product will be sent frozen, but arrive ambient. Please refrigerate or freeze upon receipt to increase the life expectancy of the product. Refrigerated products will be fresh for 2 weeks once the product has thawed.
---
Food for Life organic genesis sprouted wholegrain bread has a unique combination of Organic Grains & Seeds in Genesis 1:29 ® Sprouted Grains and Seeds Bread provides a naturally good source of nutrition not found in ordinary breads. 16 Grains & Seeds from 13 lands, there is nothing like this Bread! Moist, nutty, delicious and satisfying. Inspired by the Holy Scripture verse "And God said, 'Behold, I have given you every herb bearing seed, which is upon the face of the earth, and every tree, in which is the fruit of a tree yeilding seed; to you it shall be for meat.'"-GENESIS 1:29
Food For Life "Certified organically grown" assures you the grains have been grown and processed without the use of spray fertilizers, chemicals or pesticides and the land (where the grains were grown), has not been sprayed for at least 3 years (including current year's harvest). Certified organically grown grains are 3rd party verified by certifying agencies National Organic Program (NOP).

Ingredients
Organic Sprouted Wheat, Filtered Water, Organic Malted Barley, Organic Pumpkin Seeds, Organic Sunflower Seeds, Organic Sesame Seeds, Organic Unprocessed Wheat Bran, Organic Sprouted Spelt, Organic Sprouted Corn, Organic Sprouted Soybeans, Sprouted Chia Seeds, Organic Sprouted Barley, Organic Sprouted Millet, Organic Sprouted Rye, Organic Sprouted Brown Rice, Variety 4-Grain & Seed Blend: (Organic Sprouted Flax Seed, Organic Sprouted Quinoa, Organic Sprouted Teff, Organic Sprouted Amaranth), Organic Wheat Gluten, Fresh Yeast, Sea Salt.

---
---
© 2023 Food For Life
american express

apple pay

diners club

discover

google pay

maestro

master

paypal

shopify pay

unionpay

visa