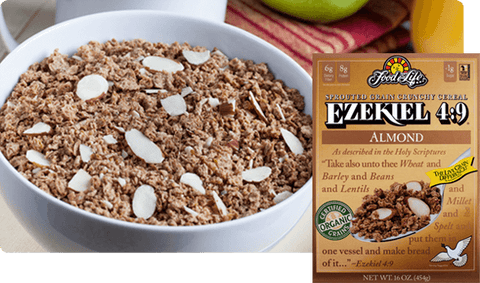 Ezekiel Sprouted Whole Grain Cereal Almond 454g
Quantity:
---
Food for Life ezekiel sprouted whole grain cereal has all the taste and nutrition of our original cereal with the added benefits and flavour of Organic Almonds.
Sprouted grains have increased digestibility as sprouting breaks down starches in grains into simple sugars so your body can digest them. Sprouting also breaks down enzyme inhibitors, so your body can more easily absorb calcium, magnesium, iron, copper and zinc, as well as producing vitamin C.
Ingredients
Organic Sprouted Wheat, Organic Sliced Almonds, Organic Sprouted Barley, Organic Sprouted Millet, Organic Sprouted Lentils, Organic Sprouted Soybeans, Organic Malted Barley, Organic Sprouted Spelt, Filtered Water, Sea Salt.

---
---
© 2023 Food For Life
american express

apple pay

diners club

discover

google pay

maestro

master

paypal

shopify pay

unionpay

visa